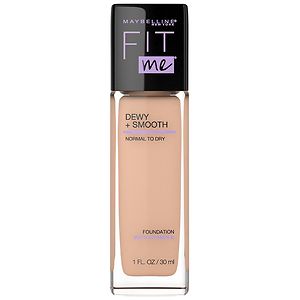 I bought the Maybelline FIT Me foundation by the recommendation of a friend of mine. She uses Lancome makeup most of the time but said she used to use this foundation when she was on a tight budget and said it's very similar to Lancome foundations. Lancome is a little bit high priced for me so I thought I'd give it a try.
This foundation is a liquid and has a thin consistency. So when you apply it make sure you do not dump it out fast because if you do you will spill it all over your hands. Just do it carefully. They should design a bottle with a pump for this foundation.
It spreads very easily and a little goes a long way. I love the feeling of this foundation. It has a nice dewy finish and it lasts too! I have a fair complexion. I usually go with the ivory colors or light beige when I choose colors. This one I chose was 120 (classic Ivory) it matches perfectly!
It has a medium coverage and is perfect for a natural no-makeup look. My boyfriend even said to me "Oh you aren't wearing makeup today?" So that is how natural the foundation looks. It looks like you are not wearing makeup but it covers all of your imperfections.
I love the dewy finish it has because I have mature skin. I don't like to powder my face too much. I do use a powder sometimes but it's a rice powder and I only apply the powder around my nose and chin where I have some oily areas.
I wouldn't recommend it if you have oily skin. It's better for normal to dry skin.
It's fragrance free which is nice because I don't like to have the smell of a foundation on my face all day and sometimes my skin can be sensitive to fragrance.
It has SPF 18 and we all know how important it is to wear sunscreen. I wear it every day!!
And best of all it's affordable! It's only $7.00
To Purchase The Maybelline FIT Foundation Click Here!